Sarafina
The Lion King character
FH User

Deviantart

Voiced by
Zoe Leader
Information

Name

Meaning

Sarafina

??

Gender

Nature

Element

Species

Female

??

??

Lion

Dates

Weight

Height

??

??

Afiliation

Born Group

Born Rank

Pridelanders

??

Group

Rank

Pridelanders

Huntress

Genealogy

Parents

Siblings

Mate(s)

Offspring

??

??

??

Nala

Status
First appearance
??
Last appaerance
??
Status
??
Age
Vol. 1
??
Sarafina is Nala's mother. She was a member of Mufasa's hunting party.
Personality Edit
Sarafina is a protective mother with a good amount of sense and resourcefulness. She can be pretty easygoing with her daughter when times are good, but when danger runs rampant, Sarafina is sure to be guiding Nala to safety. Sarafina is confident in keeping Nala safe, even if the rambunctious cub's antics get in the way.
Physical appearance Edit
Sarafina is long-bodied and lithe with strong limbs and a groomed pelt. Her fur is tawny, while her muzzle, paws, and underbelly are all paler in color. The tip of her nose appears to be a shade paler than her main pelt, with both her upper and lower eye shades being light in color. Her ears are slightly more triangular than Nala's, but her paws are colorless, like Nala's. Her eyes are apple-green.
Dark Shadows
Edit
.
In the films
Edit
The Lion King Edit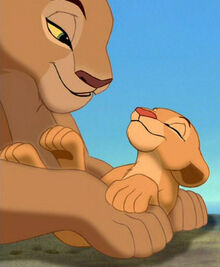 Sarafina plays a minor role, appearing a few times throughout the film. She only has one line of dialogue: "Hmmm, what do you think, Sarabi?" Her first appearance is in Nala's introduction, when she is bathing her cub; she is also seen as the lionesses mourn Mufasa and Simba, and later when they fight the hyenas when Scar reveals that he was Mufasa's killer and framed Simba who is still alive. According to the song "Chow Down" from the musical, Sarafina ate Banzai's father.
Sarafina makes an appearance in the book Nala's Dare, which is part of The Lion King: Six New Adventures series. In the book, she along with a lion named Ni, rescue Nala and some other cubs from hyenas. She later introduces the lion, which had been driven from his pride, to the rest of the Pride Land lions.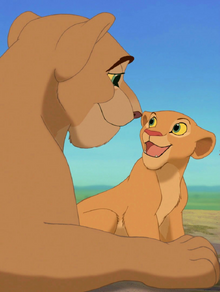 She has a special scent of.
She has the voice of Zoe Leader performing as Sarafina in The Lion King.
If we could choose for her a song it would be .
"Hmm, what do you think, Sarabi?"